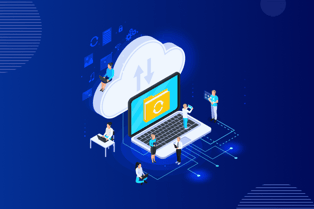 I was having a conversation recently with an individual who was inquiring about our latest client acquisitions, and the question was posed about how many were being hosted in an Azure cloud data center that we provide as a value-added service offering, or instead were installed on client-hosted internal servers. This question isn't asked very often these days as concerns about security and access have been largely erased in recent years. Being that October is cybersecurity awareness month, let's reflect back on the way things have changed in the three decades we've been in the DCAA-compliant accounting software publishing business.
It was about a dozen years ago when cloud computing became "in vogue". At the time, many thought of it as something new and innovative when in fact it was just a new twist on old mainframe technology dating back to the 1960s and '70s known as "time-sharing". The concepts are the same in that you don't own the hardware or software infrastructure, and both involve remote access to computer programs that are not hosted within your organization (i.e., on your servers and behind your firewall). As the 1980s dawned and PCs became all the rage, corporations, government agencies, and universities began investing in microcomputers and moving away from mainframes. By the early 1990s when processors became more powerful and disk space became cheaper, even large entities were downsizing from mainframe and minicomputers to PC-based local area networks (LANs). Hardware and software were installed on internal file servers and n-tiered client/server architecture was the next big thing. This trend lasted through the '90s and into the early 2000s despite the rise of the Internet. Some of us may recall the first edition of the book "The Road Ahead" by Bill Gates which was published in 1995 did not make mention of the Internet but instead focused on the evolution of desktop computing. Despite the perceived drawbacks, more and more business software began residing on the Web, and applications such as time and attendance entry proved to be more efficient when accessed through a browser than through a wide-area network. Although the potential was there and some software publishers were at the forefront of developing web-based applications using a limited toolset prior to the revolutionary Java programming language's release in 1995. Early on, the biggest concern with web-based software was (and is) security. This fear was compounded by notorious data breaches on the Internet that became more pervasive during the 2000s and beyond. From a personal perspective, I cannot begin to recollect how many times I heard "There is no way that we're going to allow our sensitive financial data to be stored in the cloud." or words to that effect. The breakthroughs came in 2006 when AWS was launched and later in 2008 when Azure was unveiled by Microsoft. Along with these cloud computing platforms came the overarching responsibility to protect data and to prove to the naysayers that the cloud is secure. While it took a while to gain acceptance, the vast majority of all new software deployments take place in the cloud using the Software-as-a-Service model. We've come full circle where most small businesses who like their predecessors did not invest in mainframes do not invest in hardware or the requisite security apparatus and adopt the cloud instead. The benefits of SaaS include:
Upfront software costs are significantly reduced

Annual Subscription agreement versus a perpetual license agreement

Hardware, software and associated IT costs are

included (power, cooling, storage)

Maintenance and patch management are

included

24 x 7 remote access with high availability (uptime)

Data center security is subject to stringent SOC audits to ensure a high level of compliance
While SYMPAQ can be installed on-premise or in the cloud, it is becoming increasingly rare that a prospective user shows an interest in self-hosting. With flexible subscription terms that do not exceed more than one year and then revert to month-to-month renewals after the initial term, the lure of a perpetual license investment is becoming a distant memory harkening back to an era where there was little in the way of choice.