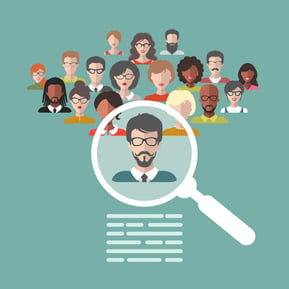 A frequent request we receive from our clients is for assistance in filling an open accounting position with the requirement that the potential staff member must have significant prior experience with our software brand. After years of being in this business and seeing it first hand, a common misconception among executives is that hiring a candidate for their accounting department with prior experience with the accounting software package of record is a "top of list" priority or even a "must have". This belief results in a premium being placed not where it should be on the candidates' core accounting competencies, but on some level of past experience with a particular brand of accounting software as represented on a resume or in an interview. What is overlooked is that often times the greatest challenge a new hire encounters is not having to learn a different software application, but having to learn the particular accounting practices that are often unique to their new employer along with the existing procedures they will have inherited with their new role.
Don't overlook true expertise
We find that some business owners tend to hone in on the concept that prior software experience obviates the need to train or re-train a new hire, thus saving money in the short term while enabling a new staff member to hit the ground running. The flaw in this thinking is that they may have overlooked the need to ascertain the overall competency of the person they're hiring with respect to their duties and tasks they might perform that are not directly linked to the accounting software in use. And, they may garner a false impression as to the level of expertise with a particular software package that an candidate actually has to offer, not knowing how to gauge their true expertise prior to making the hire.
Let's face it; most accounting software built during this century (complex Enterprise Resource Planning software being the notable exception) is designed from A to Z to be easy to learn and to use. A little bit of focused user training goes a long ways and for the most part, all accounting software follows standards-based accounting principles and are not much different in the flow of data from one package to the next.
Where to focus your efforts
Therefore, you must focus on the person (the accountant) and not on the software when making a potential hiring decision. Instead of confining your candidate search to individuals who have experience with the type of accounting software in use, you should make certain they have the professional skills required to adequately perform their job responsibilities and are expertly aligned with your mission as a government contractor by demonstrating first-hand knowledge of your industry. You should ask yourself these questions when evaluating job candidates:
Does your potential hire have an accounting or finance degree? (CPA or CMA designation is a plus)
Can this person at least pass a full-charge bookkeeping exam if not a formally trained accountant?
Is your potential hire computer savvy and eager to learn new software?
Microsoft Excel® can be thought of as an accountants' best friend (and is the format for the DCAA ICE schedules), so is is your potential hire an intermediate or preferably an advanced user of this tool?
Does your potential hire understand government contract accounting and the Federal Acquisition Regulations ?
Has your potential hire dealt with DCAA or other government auditors?
Does your potential hire have experience producing an Incurred Cost Submission?
In addition to the above, do the things that you would normally do when making any new hiring decision. These include background checks and reference checks. For any accounting staff you may hire, make sure they are able to pass a full charge bookkeeping test, even when they have a professional certification to their name. Knowledge of debits, credits and GAAP (Generally Accepted Accounting Principles) should be high on your list of desired skills, as well as the aptitude to perform monthly reconciliations and closing processes.
To conclude, prior experience with your brand of accounting software is a nice to have, but certainly not a must have when it comes to selecting the right person for the job. Strong accounting knowledge, familiarity with government contracting regulations (e.g., FAR Part 31), and possession of adequate computer skills combined with a willingness to learn are the main areas you should focus on when hiring a staff accountant.
SYMPAQ: Simple yet Sophisticated
For what it is worth, practically all of the accountants we've worked with over the years can learn the fundamentals of SYMPAQ operations within a day or two of hands-on user training. Sophisticated cost accounting software does not have to be overly complicated in its day-to-day use, and the learning curve does not have to be steep. So be certain to hire a qualified accountant first and foremost and the rest should fall nicely into place.